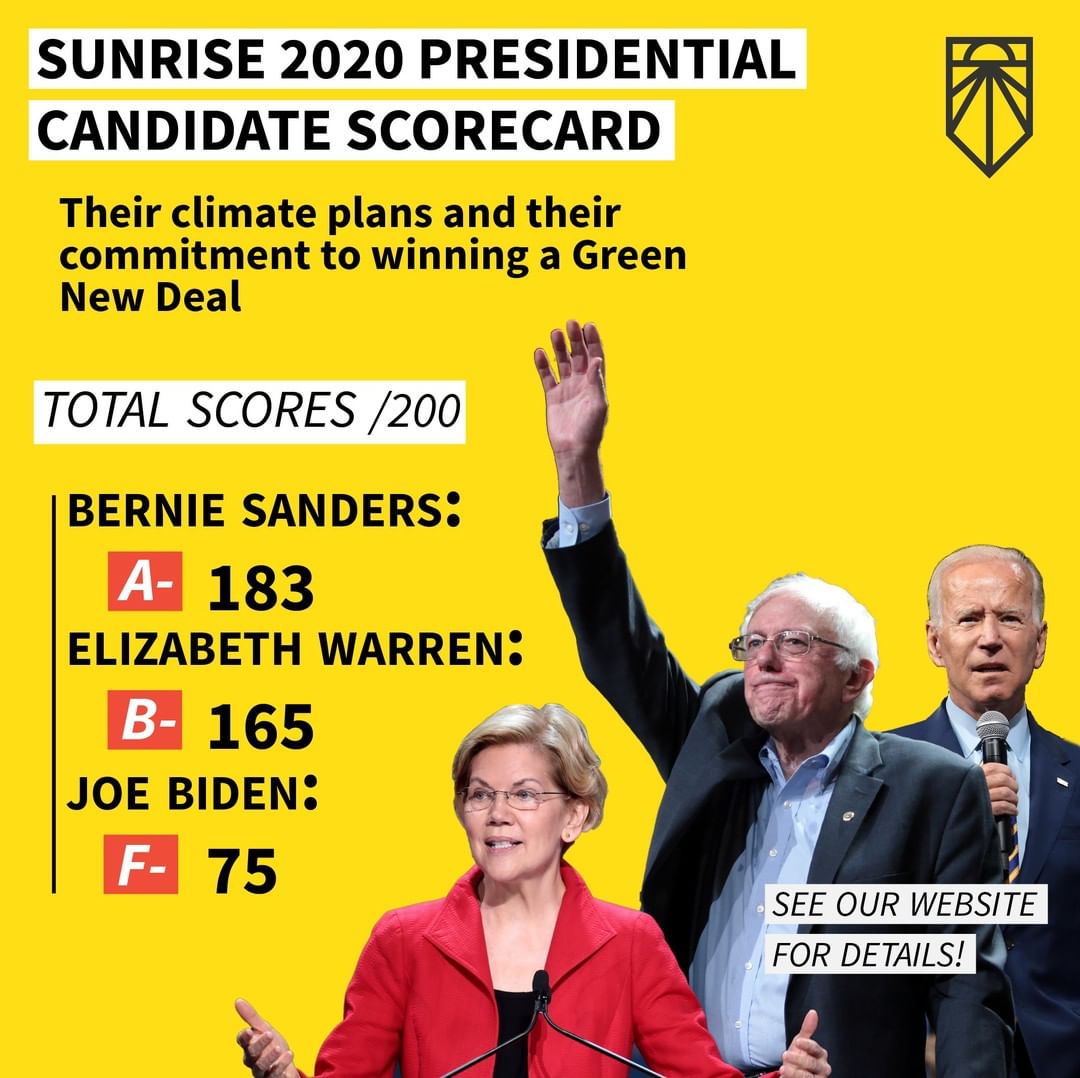 The youth climate activist group Sunrise Movement has published a 200-point climate leadership scorecard on the top three Democratic presidential candidates, with Bernie Sanders leading Elizabeth Warren and Joe Biden far behind.
Sanders earned 91.5% of the possible points; Warren 82.5%; and Biden a strikingly low 37.5%.
The careful scoring process is broken into four sections: "How they talk about it," "How much they talk about it," "Plan to win," and "Green New Deal vision."
Sanders and Warren earned identical scores for "How they talk about it" and "Plan to win"- reflecting their similarity in rhetoric about the urgency of the climate crisis and the need for comprehensive action that directly confronts the fossil-fuel industry. Both campaigns have laid out comprehensive plans for action that are built around principles of climate justice.
However, Sanders has talked about climate change significantly more than Warren on the campaign trail and in the presidential debates—a difference reflected in the metric used by the Sunrise Movement, which is the frequency with which climate change is discussed on the campaign Twitter feeds.
The Green New Deal section was a 100-point analysis of the candidate's climate plans, representing half of the full score. Sanders received an A (95 points) compared to Warren's B (85 points) for his clear plan for a phase-out of fossil-fuel extraction and for more detailed and ambitious plans for sustainable agriculture, forestry, climate refugees, energy democracy, public infrastructure, renewable energy investment, and public transportation.
In all categories Biden lagged significantly.
Perhaps relatedly, the Biden campaign's top climate staffer, Heather Zichal, is a former John Kerry and Barack Obama staffer who parlayed her years of service into highly lucrative positions in the natural gas industry.
When Biden has been confronted by climate activists at campaign stops, he has responded dismissively that he was involved in one of the first climate bills passed by Congress and if they're still not happy, they should vote for someone else.